Despite a reduced attendance at this year's ConExpo, Finland-based manufacturer Allu said the launch of its heavy-duty range of crushing attachments and the latest Transformer developments saw the company's booth welcome many visitors.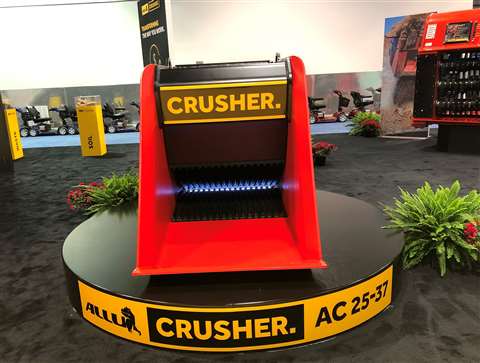 The Allu crusher on show at ConExpo in Las Vegas, USA
The global launch of the new Allu crusher series at the Las Vegas, USA exhibition marked the world
premiere of the first three crusher models. Designed for excavators in the 10 to 33 t range, all have purpose developed features to ease their use and optimise performance, while providing easy maintenance in the field.
"By bringing this new product line to market we will be able to provide customers with what they have been looking for," said Jeroen Hinnen, vice president of sales for Allu Group.
"The Allu Crusher range enables hard rock, and often troublesome demolition materials, to be effectively reduced."
According to Allu, this year was one of its most successful Las Vegas exhibitions.
"We received a lot of enquiries for the new crusher series as well as for our transformers and processors," said global marketing manager Marjut Lindroos.
"Customers, whatever their application, seemed genuinely excited by our TS blades and the ability of our processors to effectively stabilise ground.