The capabilities of the Allu Transformers range have seen leading Finnish recycling company, Remeo, invest in a D series attachment – with the processing power of the Transformer said to be particularly effective in dealing with demolition waste.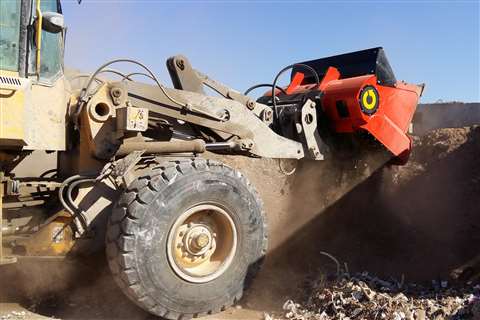 The Allu Transformer series comprises of an excavator, loader or tractor mounted processing bucket which screens, pulverises, aerates, blends, mixes, separates, crushes, feeds and loads materials.
According to Allu, this results in the feed material being effectively transformed into highly valuable products, making businesses more efficient and profitable.
Catering for applications of all sizes, Allu Transformers comprise the compact DL & D series as well as the larger M and G models.
One company that has been keen to take advantage of the Allu range is leading Finnish environmental management company, Remeo, which has offices located throughout Finland and nine recycling stations.
It employs around 350 people and uses a specialist fleet of recycling fleet of equipment consisting of over 200 vehicles.
Materials are recycled and treated in plants before being delivered for appropriate further processing, or for processing as an industrial raw material.
The Allu attachment has enabled Remeo to use its existing fleet of excavators and loaders to deal with materials either on site, in the case of demolition waste and road planings, or load screened material directly onto its haulage fleet.
As the processing power of the Allu Transformer reduces weight by up to 50% by screening out valuable materials prior to hauling, this increases the efficiency of its operation, as well as reducing emissions from its haulage fleet.